The Silk Sponge
For facial use
The Silk Sponge is a wonderful exfoliater while gently cleansing your pores
Simply wet, add cleanser (bar or liquid)
Rub all over your skin as it becomes very pliable when wet
Will rinse quickly and clearly! Squeeze out and allow to dry until next use
You will notice a marked difference in the surface of your skin after regular use of the real sea sponge
Great for young acne age skin as the silk sponge won't disturb delicate changing skin!
The Silk Sponge won't retain bacteria so it doesn't change color or pick up an odor
One of nature's "little delights"!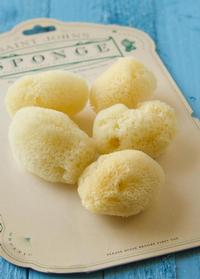 Wonderful sponge for makeup application
This is a beautiful sponge for morning face wash
A great little sponge for young girls too!
Please indicate if to be used for a newborn
Like a cloud, we will select perfectly for your baby
Click here to Start Shopping Now