Shop Online Now at Saint John's Sponge Company - Check out some of our Best Selling Products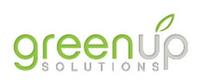 Are you Spongeworthy? Read about GreenUp! Solutions blog article where they mention using one of our Saint John's Sponge Company Products.
Snippet:
My goal for this blog is to share ways to green your life while saving money. I am taking inventory of my day-to-day activities, from cleaning to grooming to health, and exploring the natural product equivalent. I realized that I have been green in one area, the real sea sponge in my kitchen purchased from Saint John's Sponge Company at Brentwood Farmers' Market about 6 months ago.