Shop Online Now at Saint John's Sponge Company - Check out some of our Best Selling Products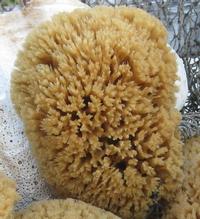 Remember Dad this Father's Day with a beautiful Yellow Sea Sponge.
Men like to feel taken care of too and they love this sponge for its texture and durability. Like the Sea Wool, the Yellow Sponge is soft when wet yet it's more dense than the wool sponge allowing for a nice scrubbed feeling that our guys like.
If dear dad is of a very much older persuasian, he'll be delighted to receive a natural sea sponge from his youth as we didn't have synthetic sponges in his parent's day.
For our very elderly gentlemen I suggest a super soft Sea Wool for its extra softness on extremely delicate skin.
Every sponge we ship is hand selected to your specification assuring the perfect texture for the recipient. Just make note if you have special requirements.
We love our men. Lets pamper them a little this Father's Day!